Welcome to the Gollis page! Gollis is the World's biggest Santa Claus. In 1997, Gollis was selected to be the most ugly tourist attraction in Norway, according to a reader investigation in one of Norway's biggest newspapers; VG! :-(
By the way, Gollis is still "alive", localized to the small village Lyngseidet in North-Norway, not far away from Tromsø, the biggest town in North Norway.
Velkommen til Gollis-sida! Gollis er verdens største julenisse, med en høyde på mer enn 9 meter. I 1997 ble Gollis kåret til Norges styggest turistattraksjon i en leserundersøkelse i avisa VG! :-(
Men Gollis "lever" fortsatt "i beste velgående". Han står plassert like utenfor tettstedet Lyngseidet i Lyngen, Nord-Norge, ikke langt fra Tromsø, den største byen i Nord-Norge.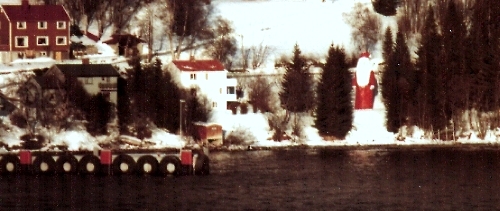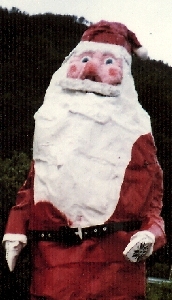 Klikk her for å fortelle dine
venner om dette webstedet.